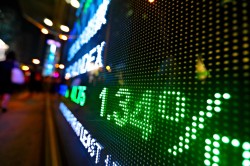 Whitbread PLC (OTCMKTS:WTBCF) dropped 10.7% during trading on Monday . The stock traded as low as $29.75 and last traded at $29.75. Approximately 184 shares traded hands during mid-day trading, a decline of 98% from the average daily volume of 11,728 shares. The stock had previously closed at $33.32.
The company's fifty day moving average price is $31.40 and its 200 day moving average price is $33.29.
About Whitbread (OTCMKTS:WTBCF)
Whitbread PLC operates hotels and restaurants in the United Kingdom. It operates approximately 800 hotels with 76,171 rooms under the Premier Inn and the hub by Premier Inn brand names; and restaurants under the Brewers Fayre, Beefeater Grill, coockhouse & Pub, Bar+Block, thyme, and Table Table brands.
Featured Article: How to track put option volume
Receive News & Ratings for Whitbread Daily - Enter your email address below to receive a concise daily summary of the latest news and analysts' ratings for Whitbread and related companies with MarketBeat.com's FREE daily email newsletter.