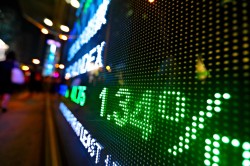 Rexel SA (OTCMKTS:RXLSF) was the target of a large growth in short interest in the month of September. As of September 30th, there was short interest totalling 76,700 shares, a growth of 25.9% from the September 15th total of 60,900 shares. Based on an average daily volume of 3,000 shares, the days-to-cover ratio is currently 25.6 days.
Shares of OTCMKTS:RXLSF remained flat at $$13.03 during midday trading on Friday. Rexel has a twelve month low of $5.92 and a twelve month high of $13.74. The business's 50 day simple moving average is $12.80 and its 200 day simple moving average is $9.20.
About Rexel
Rexel SA distributes low and ultra-low voltage electrical products to professional customers and markets in the fields of construction, industry, and services. It offers electrical installation equipment, conduits and cables, lighting, security and communication, climate control, tools, and white and brown goods.
See Also: Retained Earnings
Receive News & Ratings for Rexel Daily - Enter your email address below to receive a concise daily summary of the latest news and analysts' ratings for Rexel and related companies with MarketBeat.com's FREE daily email newsletter.